Planning Application - Winslow Town Railway Station
As members of the North Bucks Parishes Planning Consortium (an organisation set up to share information between parish and town councils relating to planning) we have been asked by Winslow Town Council to support their campaign to object to the current proposals put forward by Network Rail relating to the design of the station at Winslow. The following information has been provided by Winslow TC and we are being asked to encourage individuals to write to AVDC to object to the application as it currently is proposed. If you feel inclined they would appreciate your support:
Network Rail has submitted the above reserved matters application for the new station building, car park and approach road. The Town Council is working very hard to ensure that this badly flawed application does not succeed and a group of residents have been drumming up objections in order to achieve the magic 50, when another 25 minutes of time is provided to residents who wrote in to voice their objections at the Strategic Development Management Committee.
This application is simply not fit for purpose for the following reasons:-
The size of the site is too small to provide adequately for the necessary facilities in the early years and certainly not for the inevitable passenger usage growth in the future.





The failure to provide sufficient car parking at the outset, to meet the likely demand well before 2031.





The failure to provide short-term parking for pick-up, the disabled, taxis and parking for motorbikes, as is standard at other stations. WTC views the non-provision of parking spaces for pick-up of passengers in the evening as probably the most significant issue because it will inevitably cause major parking issues almost from day 1.





As the application fails to provide the breadth of parking required including for pick-up, taxis etc, it is in direct conflict with Policy 6 of the made Winslow Neighbourhood Plan and is therefore in conflict with the development plan.
The adverse impacts on our community and rail customers, that the proposed scheme would inevitably result in, demonstrates the failure by Network Rail to recognise it has a clear responsibility and duty of care to the residents of Winslow and its customers to ensure the adverse impacts of the station are minimised.
Network Rail's passenger usage forecast of 550,000 passenger movements in 2031, for this reserved matters application, is based on out of date (2015 and hence pre-draft VALP) information regarding future housing growth in the north of the Vale and, therefore, is an appreciable underestimate, which makes their scheme badly flawed.
As there is little likelihood of East West Rail's service through Winslow commencing until 2022, it is difficult to understand why N R has brought this application forward at this stage and is so very anxious to progress the application (they are talking of construction of the station building etc in 2018!), rather than take the new evidence before them into account, recalculate their forecasts and then bring forward a scheme that is fit for purpose.
Another concern is that Network Rail is refusing to recognise that, from its own outdated figures, before 2031 over 500 of its customers will be accessing the station, to park or be dropped off by car, with most of this traffic coming down the A413 from the North. These vehicles will need to turn right into the site during the morning rush period, yet Network Rail is making no provision to install traffic lights to safely manage the situation.
Obviously, the plea is to encourage residents to please write in as private individuals using their own words to AVDC either via an email to DevControl@aylesburyvaledc.gov.uk or directly via the website and send as brief a note of objection as they wish. Once operational, Network Rail are anticipating that passengers from at least a radius of 15 Km around Winslow will be using the new station.
Steeple Claydon Community Library
After ten years of incredibly dedicated service to the Steeple Claydon Library, sadly Pat Butler has resigned from her post. Pat set out how our Community Library would function well before the plans for it were approved. She fought alongside several dedicated volunteers to save the library when Bucks County Council was forcing its closure and she was instrumental in establishing it as one of the very first community libraries in the country. She and a small team worked well into the night to re-stock every shelf when Bucks County Council pulled out taking all their books with them. Pat and her team ensured that the library doors were not closed even for a day, and the new Steeple Claydon Community Library soon became a model to others up and down the country. The most important element of saving the Library for those active in the fight was always saving our brilliant librarian - and the Parish Council and Pat's dedicated readers have much to be thankful for. Pat has provided a wonderful welcome to young and old and has always been on hand to provide local knowledge about the village to any visitor with queries about the village's heritage and characters.
On Wednesday 26th April at around 4pm we'll be having a celebration in the library to thank Pat for all her hard work and commitment to this wonderful village resource. We would like all of Pat's readers to drop by.
Parish Council Meeting Minutes 7 March 2017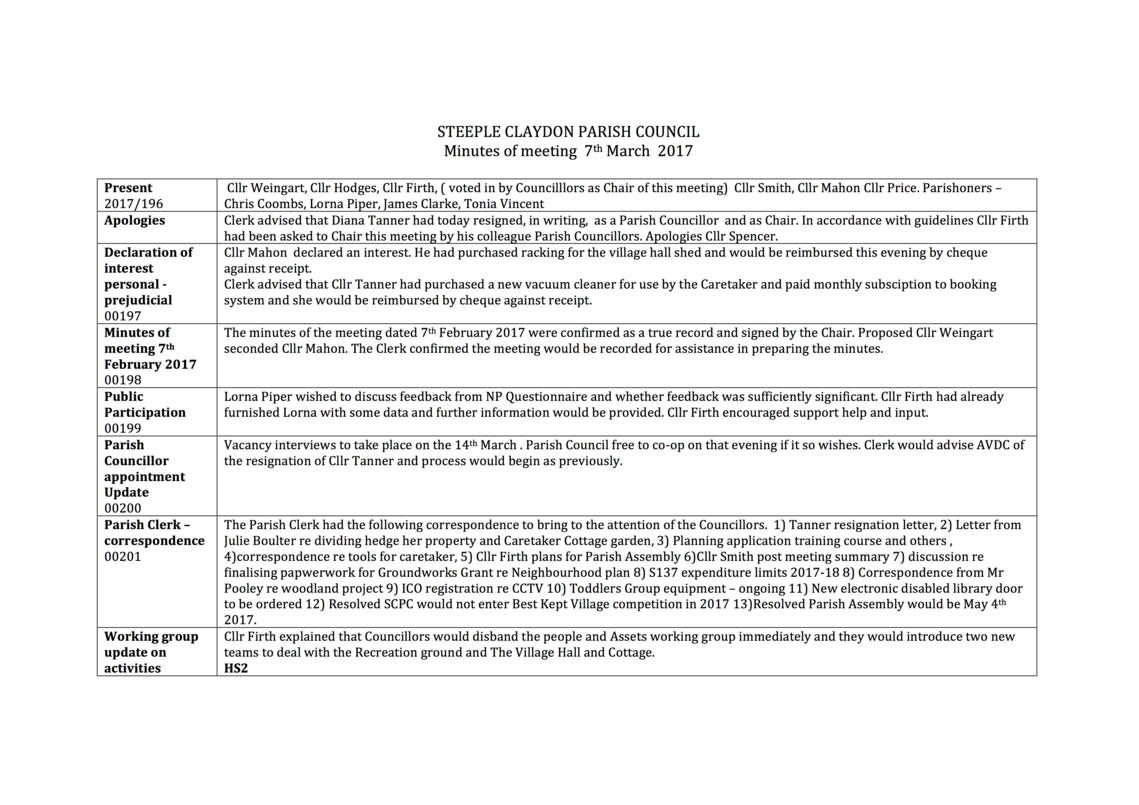 20 January 2017 - HS2 Presentation
The Parish Council presentation from the January HS2 Public Meeting is now available. Please click here to read.
12 January 2017 - HS2 Community Engagement Newsletter, January 2017
9 January 2017 - Parish Council Monthly Meetings
Minutes from the meeting of 6 December 2016 are now avialable. Click here to view.
6 January 2017 - Volunteers Needed
Are you interested in volunteering to work with a like-minded group of people focused on improving our village?
We are looking for people to add to a group e-mail that shares activities such as litter picking, clearing weeds and other small jobs which we can do to make a difference to our local environment.
There are no meetings to attend; we just get on with tasks identified in conjunction with the Parish Council.
We welcome contact from individuals and/or local groups.
To join us please e-mail the Parish Clerk clerkscpc@btinternet.com
You can find more information on the Pride in the Community page.
30 December 2016
9 December 2016
November's Parish Council Meeting Minutes have been published. Click here to view,
7 December 2016 - Steeple Claydon Parish Council is pleased to announce its new website.
We do hope you will find the changes make it easier to navigate and help you keep up to date with what is happening in our village. We will keep the website under constant review and add new relevent features as required in the future.
Please remember, if you need to contact the Parish Council for any reason, you should do so via the Parish Clerk. Just go to the Contact Information page and click on the e-mail link.
Parish Clerk
7th December 2016